Although he is a songwriter who is known for many original bands such as DV8, Jigzag and Hot Yogis, Greg also loves to perform cover songs solo, and with Georgia Hazzard on bass/vocals in The Greg Bryce Duo.  He's played many birthdays, weddings and other private functions as a solo performer and can provide a full range of listening and dance music.  Greg uses a stomp board (through a sub-woofer) for the dance songs to provide an organic beat which is fun to dance to. He doesn't use backing tracks which don't allow for dynamics or spontaneity. Instead he occasionally uses a looper if he wants to solo and these tracks are recorded on the go and erased at the end of the song. This helps the music remain very much in the moment and in tune with what's happening. 
---
A recent testimonial from a private function:
Thanks Greg, you are a very talented musician and entertainer. Everyone really enjoyed your music, Friends and family were still talking about how great you were a week after the party. We have had friends say that they would like to ask you to play at their next event. We highly recommend Greg, most definitely.                                                   John and Lauri V.
---
My song list of close to 200 "cover" songs (no originals in this list) is divided into categories of:
EASY LISTENING SONGS:
Background music while people are eating or just to provide a relaxing atmosphere for people who like to listen to acoustic music. If appropriate or requested, I can include original songs too.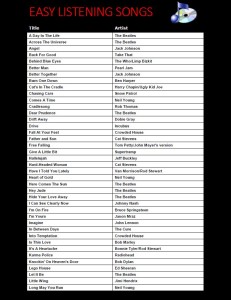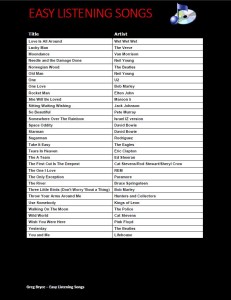 MID-PACED SONGS:
Half way between easy-listening and party mode. These songs are sometimes popular to dance to or just good songs to listen to.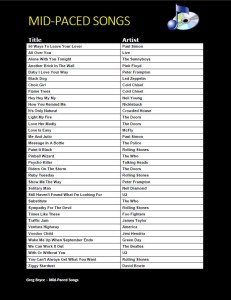 DANCE SONGS:

 
Lots of dance/party favourites…lots of classics with a number of more recent dance songs too.  DV8 or Hot Yogi dance originals can also be included if requested.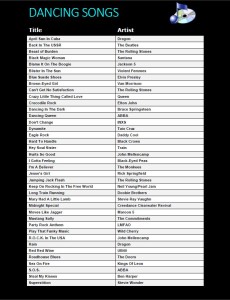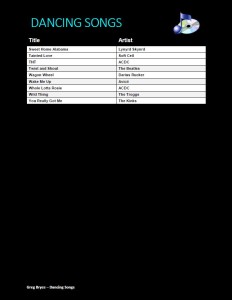 SING-ALONG SONGS:
Crowd participation songs! Classic sing-along tunes for when the audience wants to join in.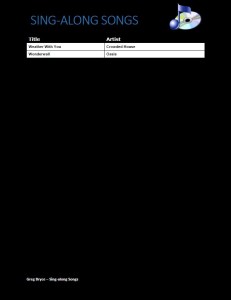 COMEDY/NOVELTY SONGS:
For a laugh 🙂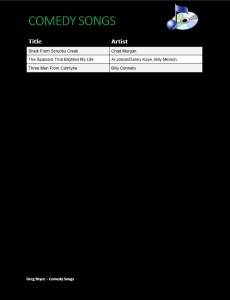 Every function is slightly different.  If you wish, you can leave it to me for song choice and to read the crowd, OR, you can choose 30 to 40 songs to cover the sets for a typical night.  

 

If you are interested in booking me for your function, please send me a message below and we can discuss your requirements.