Although he is a songwriter who is known for many original bands such as DV8, Jigzag and Hot Yogis, Greg also loves to perform cover songs in solo mode, and, if appropriate, some originals too. He's played many birthdays, weddings and other private  and corporate functions as a solo performer and can provide a full range of (classic to contemporary) easy listening as well as dance music.  Greg uses a stomp board (through a sub-woofer) for the dance songs to provide an organic beat which is fun to dance to. He doesn't use backing tracks which don't allow for dynamics or spontaneity. Instead he occasionally uses a looper if he wants to solo and these tracks are recorded on the go and erased at the end of the song. This helps the music remain very much in the moment and in tune with what's happening. 
---
A recent testimonial from a private function:
Thanks Greg, you are a very talented musician and entertainer. Everyone really enjoyed your music, Friends and family were still talking about how great you were a week after the party. We have had friends say that they would like to ask you to play at their next event. We highly recommend Greg, most definitely.                                                   John and Lauri V.
---
Here are just a few samples of songs (See more on duo/band page) :
EASY LISTENING (Classic to Millennial) :
Better Together-Jack Johnson, Lego House-Ed Sheeran, Shallow-Lady Gaga, Budapest-George Ezra, Riptide-Vance Joy, Wish You Were Here-Pink Floyd, Here Comes The Sun-Beatles, She Will Be Loved-Maroon 5, Reckless-James Reyne, Is This Love-Bob Marley, My Happiness- Powderfinger, Layla-Eric Clapton, Flame Trees-Cold Chisel, Rhiannon-Fleetwood Mac, Fall at Your Feet-Crowded House, Father and Son/Wild World-Cat Stevens, Drive-Incubus, Better Be Home Soon-Crowded House, Homeward Bound-Simon and Garfunkel, Closer/Something Just Like This-Chainsmokers…and many more.
POPULAR AND DANCE MUSIC: Dancing in the Dark-Bruce Springsteen, Don't Change/Devil Inside-INXS, April Sun in Cuba/Rain-Dragon, Kiss-Prince, Crazy Little Thing Called Love-Queen, Play That Funky Music-Wild Cherry, Sultans of Swing-Dire Straits, Old Town Road-Li'l Nas X, Shotgun-George Ezra, I wanna (One Dance) With Somebody-Drake/Whitney Mashup, Lover Lover-Sonia Dada. See more in Duo/Band page.
SINGALONG FAVOURITES:
American Pie-Don McLean, Piano Man-Billy Joel, Wonderwall-Oasis, Take Me Home Country Roads-John Denver, Bohemian Rhapsody-Queen, Sweet Caroline-Neil Diamond, Hotel California-The Eagles, Have You Ever Seen The Rain/Bad Moon Rising-Creedence Clearwater Revival, Wagon Wheel  and many more!
PUB ROCK and BLUES:
La Grange-ZZ Top, Cheap Wine/Bow River-Cold Chisel, Pride and Joy-SRV, Most People I Know-Billy Thorpe, Jack and Diane-John Mellencamp, Love Her Madly-The Doors, Beds Are Burning-Midnight Oil, Tip of My Tongue-Diesel. Message in a Bottle-The Police…etc.
Here are extra song lists of close to 200 "cover" songs (no originals in this list) is divided into categories of:
EASY LISTENING SONGS:
Background music while people are eating or just to provide a relaxing atmosphere for people who like to listen to acoustic music. If appropriate or requested, I can include original songs too.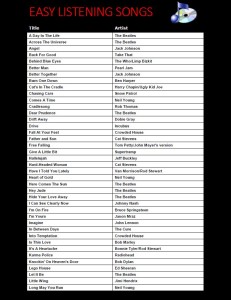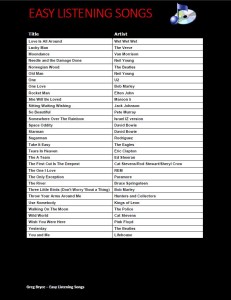 MID-PACED SONGS:
Half way between easy-listening and party mode. These songs are sometimes popular to dance to or just good songs to listen to.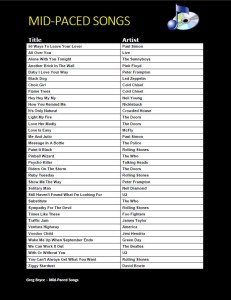 DANCE SONGS:

 
Lots of dance/party favourites…lots of classics with a number of more recent dance songs too.  DV8 or Hot Yogi dance originals can also be included if requested.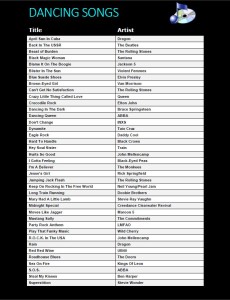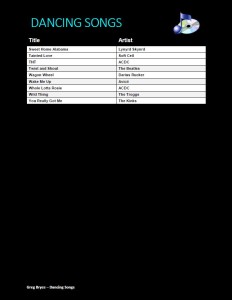 SING-ALONG SONGS:
Crowd participation songs! Classic sing-along tunes for when the audience wants to join in.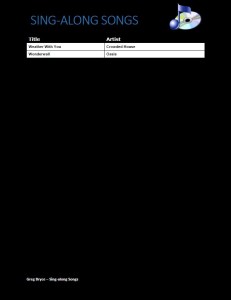 COMEDY/NOVELTY SONGS:
For a laugh 🙂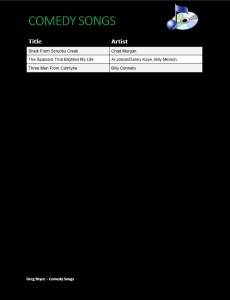 Every function is slightly different.  If you wish, you can leave it to me for song choice and to read the crowd, OR, you can choose 30 to 40 songs to cover the sets for a typical night.  

 

If you are interested in booking me for your function, please send me a message below and we can discuss your requirements.