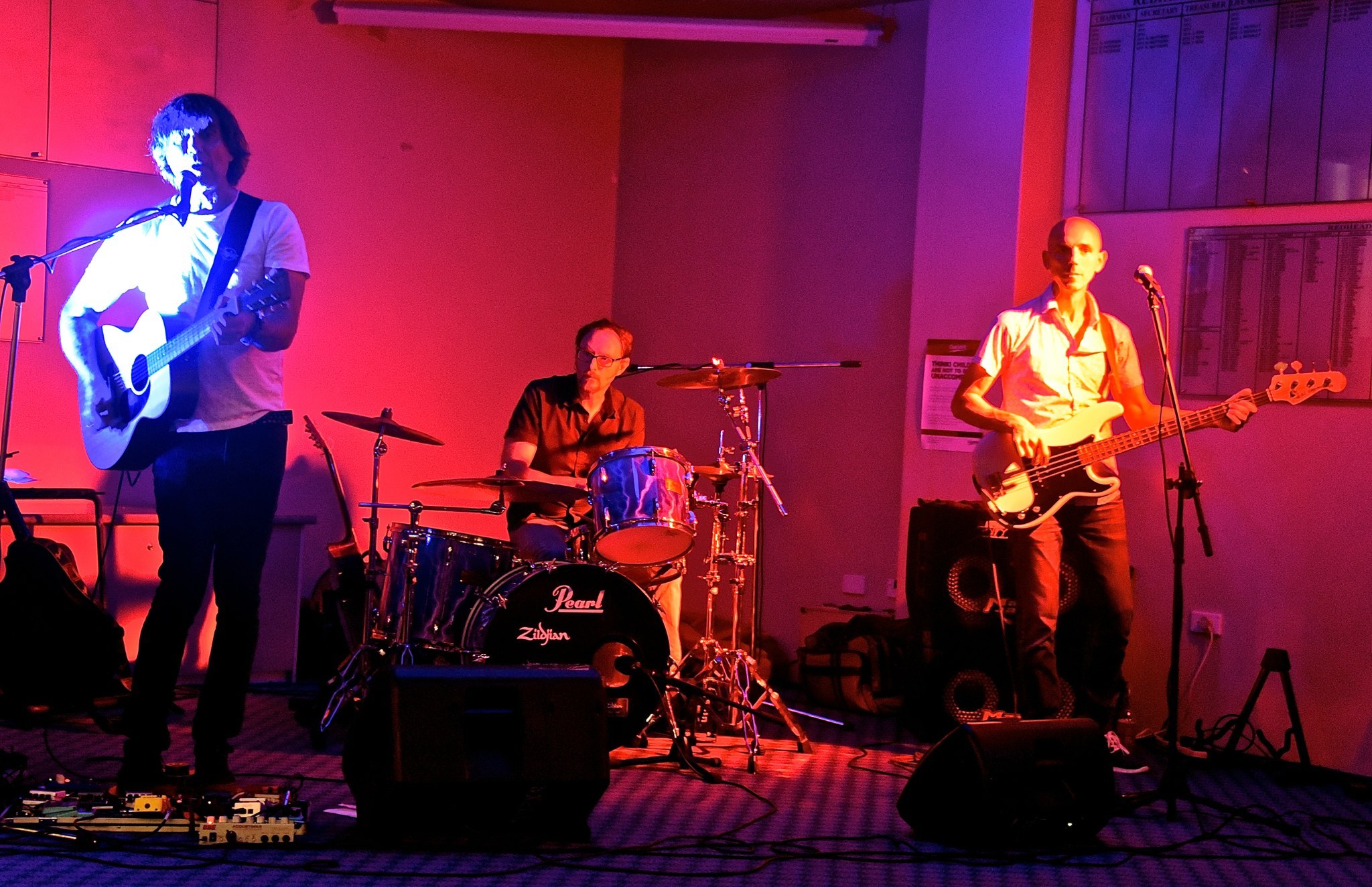 HOT YOGIs is a feisty incarnation of players consisting of Len Samperi on Fender electric bass and vocals, Greg Bryce on acoustic guitar, vocals and Robbie Long on drums.
Acoustic Indie pop delivered with energy, urgency and finesse would best describe this band.
The trio have just released their debut album through MGM titled "Under The Wire". Bryce has song-writing experience in many different genres from the hard rock of songs recorded by DV8 and The Screaming Jets on their first 2 albums to the uplifting folk/pop of award-winning, world-travelling acoustic trio Jigzag. Jigzag developed a huge and loyal following on the folk/roots festival circuit (Woodford, Port Fairy, Apollo Bay, National Folk , Fairbridge, Wintermoon).
HOT YOGIs are the perfect chemistry of players to bring life to Greg's latest batch of songs. The acoustic guitar has a great percussive quality and the songs have a fresh twist of contemporary influences. Songs like "Vampire Killer Girl", which has a tearaway passion and sense of fun, blend with "Tide is Rising", which is an emotional swim against the tide of inner-enemies, and Len's diverse instrumental bass-loops which take us to an other-worldly place. Len has been a long time bassist/rhythm guitarist for West African guitarist Moussa Diakite, who has been the featured guitarist for World Music Superstars Salif Keita and Oummou Sangare. In Moussa's band's Badema, AfroKings and Afro Trios, Len has played Bellingen North Coast Jazz, Manly Jazz and Apollo Bay festivals.
Len and Greg, true to the Hot Yogi's name first met in a yoga/meditation centre many years ago and their musical chemistry shines through in the playing and production of this album. The drums on the album were provided by original drummer Simon Lee who played with the Yogis from 2011 to early 2014. Robbie Long is currently in the drum seat for Hot Yogis.
The trio mix indie pop, roots and funk with an injection of fresh flavour and "Under the Wire" is out now in stores and on iTunes.
Follow us on:

https://www.facebook.com/TheHotYogis

  https://twitter.com/HotYogis

https://www.youtube.com/watch?v=hBE9jsudNoE


http://www.reverbnation.com/hotyogis
 http

s://www.triplejunearthed.com/artist/hot-yogis